DEDICATED TO YOUR EXPERIENCE
What our customers are saying
We're committed to providing an exceptional shopping experience. From the moment you enter our showroom, you'll be greeted with a smile and treated with professionalism. Our backyard leisure experts are here to help you every step of the way, from researching our products and finding the best one for your lifestyle, to maintenance and aftercare services that help you enjoy for years to come.
Certified fan of Rainforest Outdoor Living
I am sending a note to let you know how delighted I am with the service from your company – head, and shoulders above your competition here in town! I am now a certified fan of Rainforest Outdoor Living.
Excellent friendly service!
We have had our new Big Green Egg BBQ from Rainforest Outdoor Living for a few weeks now and couldn't be happier. Now we remember why BBQs used to be charcoal in the first place. Excellent friendly service, no pressure, and great follow-up. Thanks, Graeme for a wonderful experience.
- Marcus & Sandy, Merville
Great product and experience in store.
We just bought an outdoor patio set, fire table, and cantilever at Rainforest. Great product and experience in store. Their Salespeople are great to deal with and give you the straight facts about the manufacturers they carry. High-quality outdoor furniture that looks like it will last a long time.
Bay Breeze Sectional & AKZ Cantilever Umbrella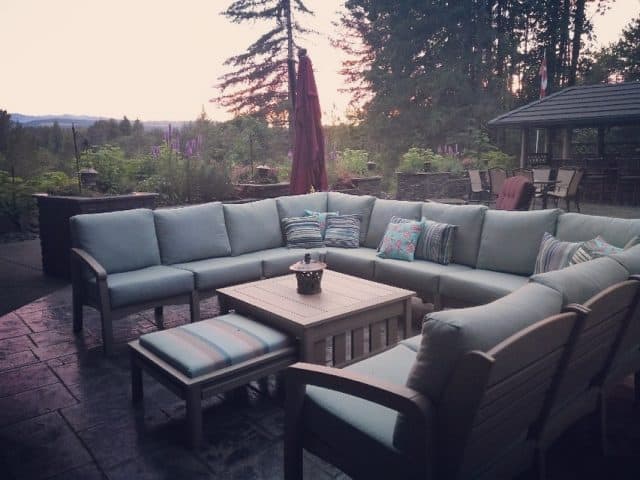 Follow-up service & tips have been great!
When it came time for us to replace our ancient hot tub we stopped in at Rainforest Outdoor Living. Graeme and his team had a great selection, one of which was a perfect fit for our yard. Within days Graeme artfully placed our new hot tub on the exact spot. The follow-up service & tips have been great, even for experienced hot-tubers like us. I would certainly recommend Graeme and his team at Rainforest Outdoor Living for their great products and helpful, friendly service.
We wanted to let you know how much we appreciated the job well done by Ian, your service tech. We recently had to have a fair amount of work done on our hot tub and Ian was extremely efficient, knowledgeable, and helpful. He was so pleasant and even called on his time off to make sure that all was operating properly. Excellent service! Thank you.
Just a quick word, to express my thanks for your kind, efficient attention yesterday. Appreciated so thanks again Justine, a good experience.
Not hesitate to recommend!
The world of "spas" was new to us, and we were impressed by the willingness to answer our questions and to do so simply and directly. Graeme went above and beyond normal retail service. We use our hot tub daily and have had occasion to need support with understanding and maintaining water quality. They have always been ready to test our water and make recommendations for appropriate treatment. We would not hesitate to recommend Rainforest Outdoor Living to anyone researching or purchasing a hot tub!
Very professional and polite
Kudos to your two delivery guys today. They were awesome. Very professional and polite. Can't say enough. They arrived masked up even though we were all outside, social distancing, etc. Good Covid protocols and much appreciated.
Thanks to Graeme and the rest of the team at Rainforest Outdoor Living for delivering the new Jackson Grill! So Happy!
So impressed with the service!
Please thank the guys again who installed the tub yesterday. They were fantastic. I am so impressed with the service we have received from your team.
Definitely made the right decision in buying a tub from Rainforest. You guys rock and thanks again for everything.
- Sean & Penny, Courtenay
Bola Fire Bowls at the Kingfisher Resort & Spa

- Kingfisher Resort & Spa
PLEASANT & CONGENIAL and POLITE
Big thanks to the delivery guys who came to deliver yesterday – wow – they were so PLEASANT & CONGENIAL and POLITE – it is wonderful to deal with service people who realize that they are the face of the business. We thanked them for their patience and great work ethic but thought we'd share with your office what a great team you have dealing with your customers. Kudos!
- Derah & Mark, Courtenay
Napoleon Built-in P500RB w/ Oasis cabinets, outdoor fridge, & side burner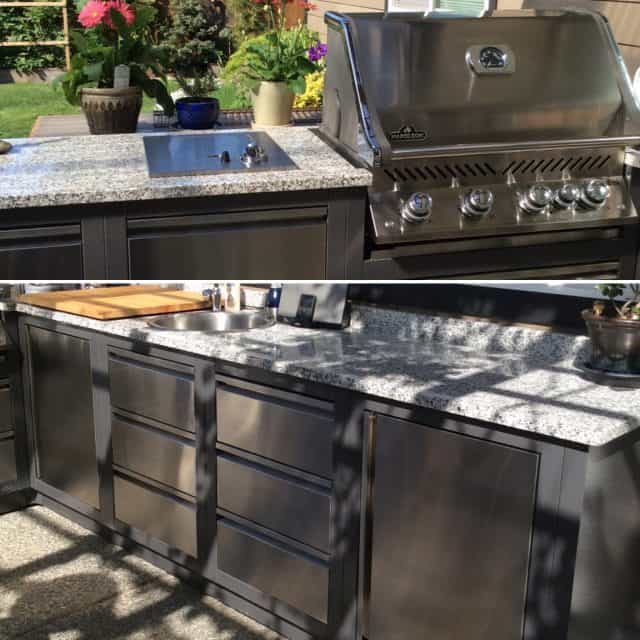 Contempo Fire Table by American Fyre Designs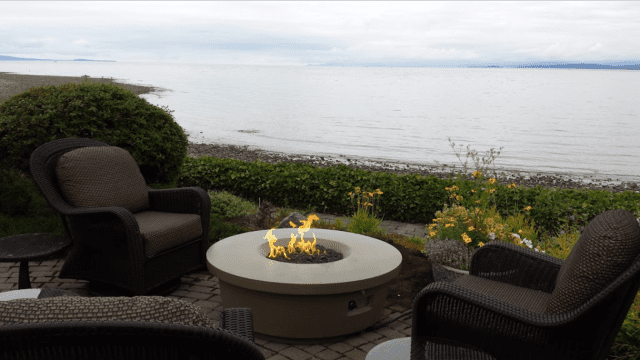 Sunpak Patio Heaters At Cumberland Brewery
The best Mother's Day gift. Thank you!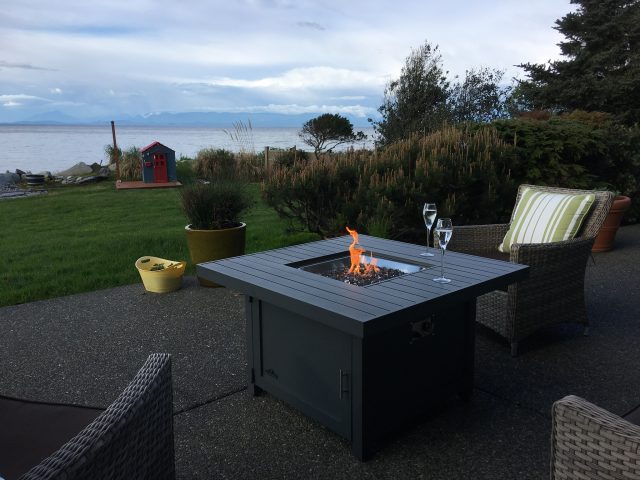 Your products and service are exceptional.
I have to tell you, you and your staff are so fabulous to work with. Renovating is a fun thing with businesses like yours. I am grateful for how thorough and all-inclusive your estimate was; how you expedited the selection process by coming on-site so quickly – twice; how you took a complicated triple-unit installation and gave me solutions instead of endless options; how pleasant and competent your staff is; how you do exactly what you say when you say. And the icing on the cake was when one of your installers quietly dashed of to get my special facing off your floor model because you'd rather do that than have us wait for a back-order. Your friendly, competent, thorough professionalism, and, the quality of your products and service are exceptional.